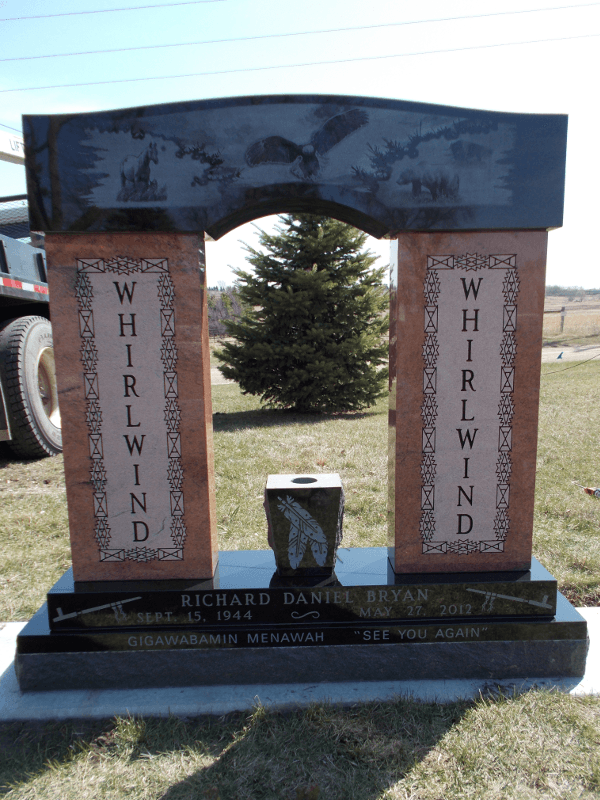 Here at Family Memorials, we have partnered with tens of thousands of individuals, couples, and families as they work through the process of creating a memorial. We strive to draw out what made their loved one's life (or their own life) unique so we can be sure to accurately capture their legacy and tell their story in stone.
Many people prefer a stone with only names, birth dates, and final dates of themselves or their loved ones while others desire to create a completely unique, never before seen on the face of the earth, type of memorial. These are the two extremes but most people fall somewhere in the middle.
Even if families have the desire to add some unique elements to create a personalized headstone, they often don't have much of an idea of how to do so. It's our job to explain what their options are and how they can incorporate personal elements into a beautiful final memorial.
The rest of this page will be dedicated to presenting a comprehensive list of the many ways to create a completely personalized headstone. Enjoy, and if you have any questions please leave a comment below the article or give us a call (1-800-658-2294)!
---
Note: before you even start thinking about a memorial stone, it's imperative that you first determine the rules and regulations in the cemetery where the stone will be set. Many cemeteries have mandates or restrictions as to what size, shape, and/or style of memorials can be placed in them. Some cemeteries have different rules for different sections in the same cemetery. So, before you proceed with designing your custom memorial, give the cemetery office, caretaker, or sexton a call!
1. Choose a Unique Color
---
Did you know there are more than three or four colors of granite to choose from? You might not realize this by strolling through a cemetery as a majority of the stones are either black, gray, pink, or brown. Most people have no idea the range of colors available in granite until they walk into our showroom and see the variety of colors we have on display.
Let's look at some methods you could use to choose a color that is meaningful to you or your loved one.
Read: 20 of our most popular granite colors
Personal Preference
If someone has loved the color blue for their entire life then maybe they would like a Blue Pearl or Blue Silk memorial. If they love red maybe a Wausau or India Red. Or, maybe, a person sees a color in our showroom they've never seen before and that's the stone they have to have. We have this happen a lot with a color called Paradiso. Paradiso stones never last long in our showroom!
Geographic Significance
Others may choose a color based on geographic preference. For instance, we have many customers who choose Sunset Mahogany, Carnelian, or Mahogany stones because they like to shop locally and those colors come from a quarry right here in South Dakota!
We have granite that comes from quarries in four continents and many more countries. Perhaps you'd like a stone that comes from Brazil, Norway, China, or India. If so, you're in luck!
Mix and Match
Believe it or not, you can mix and match colors too! Maybe you want a gray memorial on a black vase or vise versa…not a problem!
2. Don't Use Granite
---
Memorials don't have to be granite! Granite is a great option due to its durability but there are many other options out there as well, such as field stones, quartzite, marble, etc.
Read: What is Granite and Why is it Great for Headstone?
Fieldstones
Fieldstones are great because no two stones are the same. We've had many a farmer pull a rock out of his field to have it sawed in half and used as his memorial! We also have quite a few ready-to-go field stones in stock.
Gallery: Fieldstones
Quartzite
Quartzite is a beautiful option as it always has such beautiful variegation. The downside of quartzite is that it's becoming increasingly hard to find and, consequently, more and more expensive.
Marble
Before granite became the predominant material used for headstones marble had the monopoly. Marble has a beautiful finish and can be easily sculpted into beautifully elegant shapes. An important factor to consider regarding marble is that it wears down rather easily, especially if it will be in an area with violent weather and temperature extremes, such as South Dakota.
3. Create a Custom Shaped Memorial
---
Memorials don't have to be the standard shape (unless your cemetery requires it)! One of the easiest ways to create a completely personalized headstone is to design a uniquely shaped stone.
Unique Shapes
For the most part, if you can imagine it, we can make it when it comes to the shape of your memorial. If you wanted something just a little different, we have lots of examples of uniquely shaped stones we've done in that past. If you want something that has never been done before, we'll get our sketchbook out and start bringing your idea to life.
Gallery: Special Shapes
Benches
Another interesting way many families choose to create a custom experience is by incorporating a bench into the memorial. This is a great idea because a bench memorial serves multiple functions. It creates a personal and intimate memorial by providing a place for visitors to sit and reflect, which is, in itself, a personal and customized experience for all who come to visit.
Gallery: Benches
Natural Stones
Whether it's a fieldstone (as mentioned previously) or a piece of granite that hasn't been cut square, a natural stone offers a more rugged look to any stone. Usually, at least one surface will be sawed to provide a smooth surface for the lettering, but this isn't always the case!
Incorporate Sculptural Elements
Incorporating a sculpture into your memorial design is yet another great way to create a custom shaped memorial. We've worked with customers to include sculptures of all sizes, from almost life-sized bronze statues to tiny marble sparrows!
4. Design Custom Carvings
---
While we have a design book with thousands of pre-made carvings, we are always willing to design a custom carving to help you better tell your story. Our artists love the opportunity to create a new carve!
Carvings are a way to provide a glimpse into the life of the person being memorialized. They can give visitors an insight into what that person was passionate about. Perhaps they absolutely loved their career as a nurse, police officer, or farmer. Let's put a nursing emblem, police badge, or tractor on their stone!
What about a grandma who loved to knit blankets, mittens, hats, and other miscellaneous items for all of her new grandbabies…and…every everyone else? Let's put some knitting needles and a ball of yarn on her stone! Maybe grandpa loved to tend to his rose gardens. If so, why not put some roses on his stone?
Those are just three of the most common types of carves families choose to tell their loved one's stories. Other than manufacturing and sandblasting limitations, your mind and imagination is the limit when it comes to creating carves to tell your story.
Gallery: Carvings
5. Add a Meaningful Epitaph
---
We've all seen a picture of a headstone with a funny or clever epitaph scrolled across the stone. Well, it's true, you can say what you want on your stone and there's not a lot anyone can do about it! Well, again, it depends on cemetery rules and regulations but, for the most part, you should be alright.
Is there a particular saying, proverb, or quote that captures perfectly the personality of the person being memorialized? Maybe they had a unique term of endearment when referring to their children or grandbabies? Perhaps there was a particular verse from Scripture they held dear in the final months and days of their lives that will bring comfort to all who are mourning their loss?
All of these are great ways to add personality and depth to the story being told by a memorial stone.
6. Capture Your Marriage Date
---
For our married customers, including your marriage date can add an important and personal element to the story being told by your memorial. You and your spouse's special date can also be included in a graphic that conveys even more information to the viewer about how you lived your life as a married couple.
Many people like to include their marriage date in wedding bands, a heart, or other symbols that hold significance to them as a couple. Marriage plays a central role in many people's lives, so it only makes sense to include that special day on a personalized headstone.
7. Inscribe Your Children's Names
---
Those of us with children understand that there is never anything more important to a person than their children! Given this, it only makes sense to include them in your memorial. A great majority of our customers choose to include their children's names on their stone and a significant number even include their grandchildren's names! If you're including grandchildren, unless you're 110% sure there are no more coming down the road, you'll need to make sure there's room for more names to be added in the future.
Customers most often include the names of their children along the bottom of their memorial or on the base, however, we have seen some very creative ways of incorporating the names into the design of the stone.
8. Utilize Our Laser-Etching Technology
---
Perhaps the biggest technological advance in the memorial industry in the last half-century is the advent of laser-etching. If done correctly, laser-etching can create a permanent, photo-quality image on granite. The only caveat is that can only be done on black granite otherwise it won't look right.
Photos and Portraits
The most common utilization of our laser-etching technology is to include photo-quality portraits and photos on a memorial. Seeing a real picture provides an unparalleled glimpse into the life, legacy, story, character, and personality of the person memorialized on the stone.
Many times laser-etching is used to incorporate the footprints or handprints of little babies. The little hands and feet transform the memorial into a beautiful and intimate tribute to the precious life that was lost way too early.
Farmers or folks who grew up on the farm commonly utilize the laser to capture an aerial photo of their fondly remembered family farm on their memorial. There is no better way to bring back memories and feelings of nostalgia than to see the place you called home as you grew up.
Intricate Lettering
Our laser-etching technology also allows us to create lettering in ways that are impossible using the traditional sandblasting methods. With the laser, we can include incredibly intricate lettering.
Lasered Inserts into Non-Black Stones
If you chose a stone that is not black, it doesn't mean you're out of luck when it comes to including some lasers on your stone! We have worked with many families to design a stone that has a special black granite insert incorporated into the design so they could include a portrait or image.
Gallery: Laser-Etchings
9. Insert a Porcelain Photograph
---
Another method to visually tell the life story of the person being memorialized is to use porcelain inserts that include a baked-in photo! Don't worry, these things are durable. If you go through an old cemetery there's a good chance you'll see a clear, in-tact porcelain photo from 100+ years ago!
Porcelain inserts come in different shapes (oval, heart, rectangle) and sizes to allow for maximum customization! We've seen people include portraits of people, pictures of pets, or photos of the family farm on their porcelain inserts.
The porcelains we use here at Family Memorials come with a replacement guarantee. If in the unlikely event they do break, all you'll have to do is let us know and we'll order a new one for you!
10. Add Bronze Elements
---
Bronze is a metal that has been used in memorialization for a very long time. It has a beautiful aesthetic as it ages and its colors change. In fact, there are some cemeteries that require all memorials to be bronze. Others require a certain percentage of the stone to be covered with bronze. Most cemeteries don't have these requirements but, nevertheless, many people love to include a bit of bronze simply for the beauty and elegance it brings to any design. Let's look at some of the ways bronze can help you create a personalized memorial.
VA Military Veteran Plaques and Medallions
The most common bronze elements we see are the free bronze plaques and medallions provided by the VA for our military veterans. They offer a variety of styles and shapes which makes it easy to find a way to include them in the design of any memorial stone.
As a side note, the government only allows one bronze piece to be ordered for each veteran. It is possible for us to order duplicate bronze plaques and medallions from private companies if, for some reason, you're not eligible for the free option from the government.
Read: Government Headstone Options for United States Veterans
Emblem Medallions
Bronze emblem medallions are a great way to incorporate the symbol or emblem of your career, clubs, hobbies, or military branch of service. These usually incorporate color into the design to add even more beauty and detail to your memorial stone.
Flowers, Hands, Crosses, and More
Instead of sandblasting flowers, hands, crosses, or other symbols why not incorporate those same elements as bronze attachments? A tactfully placed bronze cross, rose, or bird can add the perfect final touch to a beautifully designed memorial.
Bronzed Boots/Shoes
Perhaps the most fun way to incorporate a bronze element into a memorial is to have some boots or shoes bronzed! It sounds crazy, but it is possible to take a beloved pair of cowboy boots and have them completely encased in bronze.
11. Include a Vase or Pot
---
One of the most beautiful sites to see in a cemetery is a vase filled with fresh, beautiful flowers! Vases or pots give survivors the opportunity to continue to care for their lost loved ones for decades to come.
Note: vases are another element that may be either mandated or limited by your cemetery's rules and regulations. If you're thinking about including a vase or pot with your stone, be sure to double check with your cemetery's sexton to make sure it will work!
There are many shapes, sizes, and styles of vases available to choose from so you shouldn't have a problem finding one to complement your memorial nicely. Vases can be bronze, granite,  Metalcraft, and more. In fact, just go check out this gallery to see some options available.
Let Your Imagination Run Wild
---
When it comes to designing your memorial, there is, perhaps, nothing more important to your legacy than ensuring your stone tells your story the way you want it to be told!
Many people opt for the traditional memorial and there's absolutely nothing wrong with that. However, for those of you who want to step outside the box, there are almost limitless opportunities to design a completely unique and personalized headstone that will capture your story in stone and leave a beautiful legacy behind for generations to come.
Here at Family Memorials, we pride ourselves on providing excellent customer service to every individual and family that walks through our doors. You're trusting us to help you tell the story of a loved one's life and that is not something we take lightly!
Read: Our Story
Reach Out to Us
---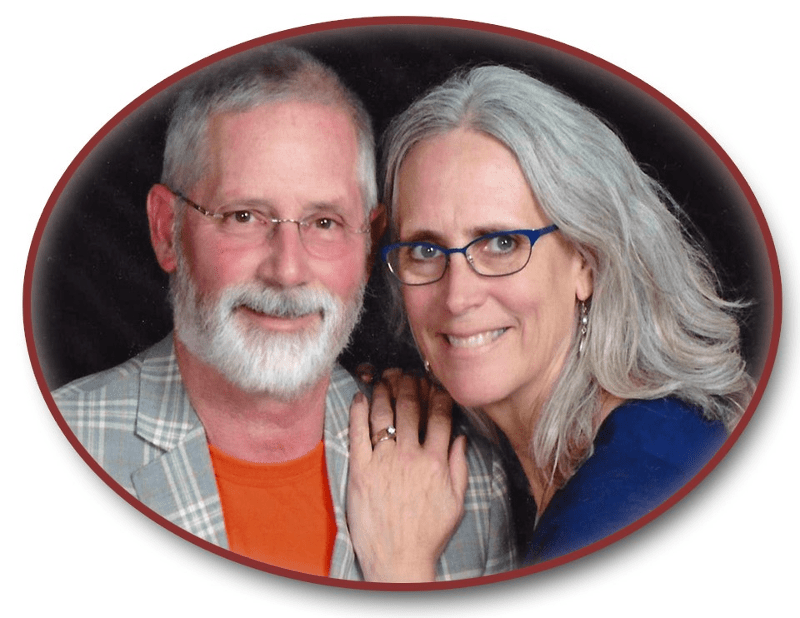 If you're looking to design a completely personalized headstone, let us help you. We would be honored!
If you have any questions or would like to reach out to us, there are many ways to do so:
Leave a comment below
Submit an inquiry through the "Contact Us" form on the left (or below if you're on your phone)
Sign up for our newsletter on the left or immediately under this post
Submit an online quote request here