There are many options when it comes to designing a stone that accurately portrays the life and story of a person. There are many decisions that must be made in regard to the color, size, shape, information to include, costs, etc.
The final aspect of capturing a person's legacy in stone is the actual design of the stone. What biographical information do you want to include and how should it be laid out? An often forgotten, but vital element is choosing which carvings you want to aid in the visual telling of a person's life story.
While many people choose a carving that represents that person's hobby, career, or passion, we've noticed over the years that flowers have consistently been the most common choice!
Flowers are a perennial choice (pun definitely intended) for a variety of reasons. On a surface level, flowers are simply aesthetically pleasing and add a sense of beautiful elegance to any stone they adorn.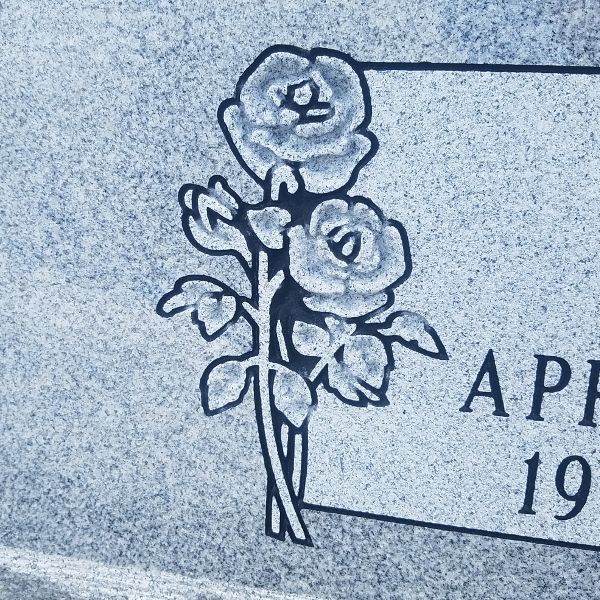 Flowers can also remind us of powerful memories associated with our lost loved ones. Perhaps it is well-known that the person being memorialized absolutely loved growing roses, so it only makes sense to include a rose on her stone. Or, maybe, a couple will choose a bouquet of lilies as a nod to the bouquet the man brought his wife on their first date decades ago.
To take it to another level, there is also a world of symbolism and hidden meaning when it comes to carving flowers into a headstone.
Let's take a brief look at the rose. A rose is known to symbolize hope, beauty and love and two roses coming off of the same stem can represent a strong, loving bond, such as between husband and wife.
Those are just a couple examples of floral symbolism with the rose. If you'd like to read more about this, check out this Wikipedia article on the Language of Flowers.
Shape-Carving
---
Another reason families love to include flowers on their stones is because we shape carve them without adding any extra charges or fees. Shape-carving adds a three-dimensional texture to the flowers and elegantly enhances the overall look and feel of the finished design.
Both of these pictures are of the same cross and flowers. When viewed at an angle you can really see the depth that is given to the design by shape carving the flowers!
Examples of Flowers
---
Here are a few examples of flowers from stones we have carved this summer!
If you'd like to learn more or chat with us about memorializing a loved one, please give us a call or sign up for our newsletter below!
Follow Our Story
We'd love to be able to connect with you further. Sign up for our mailing list to learn more about who we are, what we do, and to have early access to any specials and deals we may offer in the future.
Thank you for subscribing.
Something went wrong.