Location
---
This elegant family stone is quite possibly one of the most striking memorials in the Woodlawn Cemetery in Sioux Falls, South Dakota.
The Stone
---
This monument was crafted from Barre granite quarried from Barre, Vermont. Barre granite is renowned for its durability, strength, and moisture resistance as well as its consistent color, free of imperfections and impurities.
This stone itself is made up of six different pieces set on top of each other.
Every piece's finish is sanded except for the bottom base which is rock-pitched.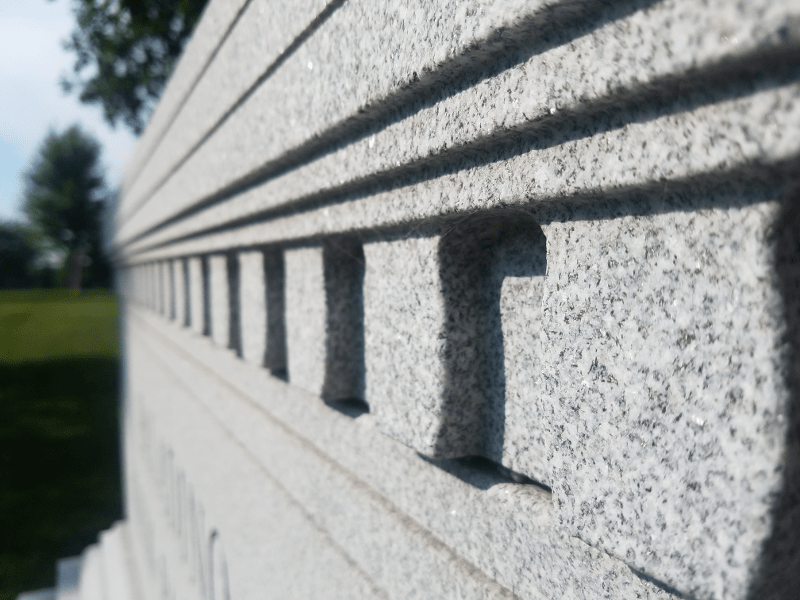 Starting from the top:
Cap (Upper): 4 feet 11 inches x 1 foot x 10 inches
Cap (Lower): 5 feet 3 inches x 1 foot 5 inches x 8 inches with a recessed/raised carving pattern on all four sides.
Die: 5 feet x 1 foot 2 inches x 1 foot 8 inches
Sub Base (Upper): 6 feet 4 inches x 1 foot 11 inches x 8 inches
Sub Base (Middle): 7 feet 8 inches x 2 feet 3 inches x 8 inches with a 7-inch wash with 1-inch drop
Sub Base (Lower): 8 feet 8 inches x 3 feet x 8 inches with a 7-inch wash with 1-inch drop
The lettering on either side of the monument stands 6-inches high and is blasted to a deep "V" cut to ensure clear visibility and legibility from various distances and in varying weather conditions.
This stone is a beautiful, yet simply elegant example of what can happen when you mix a stunning, high-quality granite with talented artists and craftsman.